Description: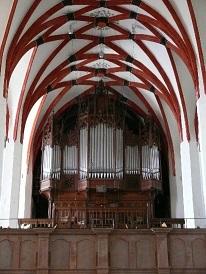 In this challenging programme, we will be performing three of the six motets now generally accepted to be by JS Bach while our conductor, Nicholas O'Neill, plays two of the composer's best-known organ pieces. For the listener, this is music that wears its technical difficulties lightly and will set feet tapping and spirits soaring.

Bach's motets represent some of his finest choral writing on a relatively small scale, in music which was possibly initially heard at funeral or memorial services. Between Bach's death in 1750 and the revival in interest in his music, inspired by Mendelssohn's efforts in the 1820s, the motets were the only works in his output to be readily available apart from the chorale harmonisations, and Beethoven owned a copy. Lobet den Herrn (BWV 230) and Komm, Jesu, komm (BWV 229) are both in single movements, the former now generally accepted to have been written by Bach despite some doubts, and explore the form in single-movement spans for single and double choir respectively. Jesu, meine Freude (BWV 227) is on an altogether more ambitious scale, a balanced form across eleven short movements with regular appearances of the chorale upon which the work is based.
Bach's reputation during his lifetime was mainly as an organist and improviser, and many of his most important organ works may have begun as extempore creations before being fleshed out and refined throughout his life. The Fantasia and Fugue in G minor (BWV 542) may well have been first heard as separate improvisations, the fugue as part of an audition test for a post as organist at one of the churches in Hamburg, while the sectional approach of the fantasia and its bold and surprising harmonic shifts hint at a public demonstration of the composer's skill. The 'Dorian' Toccata and Fugue in D minor (BWV 538), instead, makes full use of the contrasting colours of the instrument across the different manuals, the rhythmically intriguing fugue exploring how the listener's perception of pulse and rhythm can shift like an illusion.
All of these works show Bach at the height of his powers, writing effervescent individual lines which combine to delight both head and heart, examples of a performer and composer exploring the limits of what is possible in his language while never forgetting the power of music to communicate and delight.
(Photo credit: Ad Meskens / Wikimedia Commons)